DISCOVER TIGNES FROM THE SKY!
FOR THOSE THAT ADORE A THRILL
Fly up to the summits and discover Tignes from the sky in an unforgettable microlight flight!!

If you are a thrill-seeker or if you simply wish to make the most of the incredible Tignes scenery as seen from the sky, choose a microlight flight!

Enjoy this activity with your family, partner or friends for guaranteed sensations!
-The pilots offer synchronised flights for 2 people in their 2 microlights!

DAYTIME MICROLIGHT FLIGHTS –WE OFFER A CHOICE OF 3 FLIGHTS !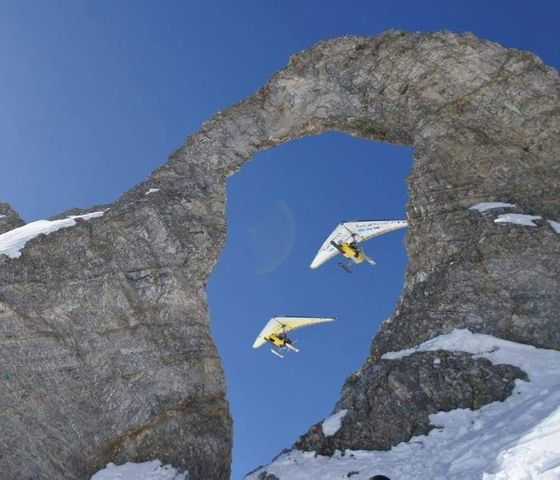 >> "DISCOVERY" FLIGHT (+/- 15 minutes)
prices
A 15 minute flight (on average) above Tignes Val Claret !
99 €
>> "AVENTURE" FLIGHT (+/- 30 minutes)
PRICES
During this flight that lasts +/- 30 minutes, you will discover the summits of Tignes Val Claret and Tignes le Lac!!

--> An unforgettable flight is waiting for you !
189 €
>> "VIP" FLIGHT
PRICES
PREPARE YOURSELF FOR AN UNFORGETTABLE EXPERIENCE !!
499 €
INSURANCE
1 day
A specific and obligatory insurance is required for this activity
1,5 €
Informations to prepare your flight !
Please arrive 15 minutes before your given flight time for a security briefing and to give you time to dress (An extra layer of warm clothing is provided to protect you against the cold).
Please come dressed in your ski suit
Access to the Tichot chairlift is possible with a skipass or a pedestrian lift pass
It is possible to leave your skis in the ULM chalet and to keep your ski boots on during your flight
As a security measure, you will not be able to use your own telephone to film your flight. You will be seated in front of the propeller and flying at 100km/h
Maximum passenger weight limit is 130kg
We advise you too book at the beginning of the week to guarantee yourself a place
Please don't wait for bad weather to think of flying. Flights have to be cancelled over a certain wind speed